Types of Caster Wheels
Caster Wheel Choices: Determine the best option for your application.
Apollo Caster can provide you with any type of wheel you might need based on your environment, load, durability requirements, and budget constraints. If you are not sure which type is best, just call us and let us help you select the most effective wheel for your specific application.
You can save time and money replacing a wheel instead of the entire caster. Let Apollo provide OEM quality replacement wheels for fast and easy repairs.
Image
Description
Hardness
Bearings
Cost
Temp
Cast Iron or Semi-Steel
This wheel should be specified when excessive load weights are involved and floor protection is not a factor. Its high strength withstands sharp impacts. They should not be used if noise is of major concern or if loads are fragile.
Hard
Roller; Precision Ball; Delrin, plain
$
-40° to 600° with proper bearings and lubrication
Conductive
Electronic equipment can be damaged by the electrostatic discharge of a simple human touch. Damage caused by this discharge is a very costly and frustrating to the medical industry. Conductive (or antistatic) casters and wheels can help minimize the risk of electrostatic discharge. Designed to dissipate static build-up in rolling carts or chairs, these specially engineered wheels (and casters) feature a cushion ride and tested durability.
70-80A
Ball Bearings or steel spanner
$$
-30 to 160 deg
Flanged: Single and double
The flanged wheel is designed to operate on steel tracking to minimize guidance and rolling effort. These wheels are constructed of premium cast iron and steel for high strength and long wear.
85D+
Roller, tapered roller
$$
Maximum to 800° with proper bearings and lubrication
Flat Free and Semi Pneumatic)
Flat Free wheels are made to perform like pneumatic tires, and are filled with a lightweight, microcellular polyurethane foam. They retain the lightweight, bounce and cushion like a pneumatic tire, without the nuisance of air leaks. Like your automotive tires, these will flatten as weight increases, particularly in heat. These have almost entirely replaced pneumatic wheels in our industry due to their convenience and similarity. Semi Pneumatic wheels consist of a solid rubber tread on a plastic hub. In larger models, these are a solid rubber tread on a steel hub and can be used for forklift trucks and similar equipment. The term semi-pneumatic is an industry misnomer as these are not in any way pneumatic. (But who are we to argue with a decades old industry?)
Not Rated
Ball, Roller
$$$
N/A
Glass Filled Nylon, High Temp
These wheels are molded from an exclusive engineered nylon and fiberglass compound that offers non-marking floor protection, near zero water absorption, high load capacities and long service life. They are specifically designed to withstand high temperatures in moist environments such as baking. A special manufacturing process enables the wheels to retain a consistent bearing bore even when exposed to elevated temperatures. Furthermore, Thermo wheels are 100% recyclable, and they are highly resistant to animal fats, vegetable oils and salt solutions. The life expectancy of Thermo wheels is three times longer than high-temp phenolic wheels, and they offer an equal load capacity. Unlike high-temp phenolic wheels, these have no outer skin that can break and absorb water or other fluids.
65D
Plain, Roller, Spanner
$$
Up to 490° continuous or 550° intermittent
Phenolic
Phenolic wheels are an industry standard. Made of phenolic resin and macerated canvas, these wheels are tough, durable and virtually indestructible. Also economically priced, shock-load capable, non-marking, non-conductive and resistant to oils, greases, liquids and steam.
75-85D
Plain, Roller, Delrin, Precision Ball
$
-50° to 250°
Phenolic, High Temp
The wheels are made from macerated canvas mixed with phenolic resins, then pressure molded and cooked. The result is a highly durable wheel capable of taking shock loads, is floor-protective, non-marking and non-conductive. Best for dry heat environments such as metal treating.
75-85D
Plain, Roller, Delrin
$$
-50° to 550°
Pneumatic
These air-inflated rubber wheels are typically mounted on a two piece hub assembly. Providing the ultimate in cushion and shock absorption, they are well suited for moving fragile loads over a variety of floor or outdoor surfaces. Best performance is achieved when air pressure is maintained.
Not Rated
Ball Bearings; roller bearings
$$$
Not Rated
Polyolefin
Designed for hard impacts and heavy loads, this wheel is injection molded from a polyolefin compound. On larger models, the ribbed design adds strength. Very light in weight, yet the impact strength of this wheel is far superior to hard rubber wheels. It offers superior resistance to most oils, chemicals, grease, gasoline, cooking fats and acids. In addition, the wheel is stain resistant, non-marking and provides zero water absorption.
60-70D
Plain bore, ball bearings, roller bearings
$
-45° to 180°
PolyUrethane on Aluminum
PolyU on Aluminum wheels feature precision molded high quality polyurethane chemically bonded to a smooth, polished aluminum core, providing a lightweight, versatile, strong and attractive wheel. With ball bearings, these provide an easy start-up and are good for ergonomic applications. Meets SF and UL sanitation standards, resistant to water, oils, greases, cleaning agents and solvents.
60-70D
Plain bore, ball bearings, roller bearings
$
-45° to 180°
PolyUrethane on Nylon
Brown nylon tread is molded in, around and through slots in an aluminum wheel core. This mechanical tread locking system helps prevent tread bond failures under harsh operating conditions found in meat packing and food processing industries. A nylon wheel is recommended for applications requiring a high resistance to water, oils, gasoline, grease and certain salt solutions. Nylon is also resistant to paints and lacquers, cosmetic preparations, detergents, aerosol preparations, and animal and vegetable fats.
70D (±5)
Plain bore, ball bearings, roller bearings
$
-45° to 250°
PolyUrethane on Polyolefin
PolyU on PolyO (often referred to as 'Poly on poly') wheels are comprised of precision molded high quality polyurethane mechanically locked to a durable polyolefin core, providing a versatile, strong and attractive wheel. Different manufacturers often assign their own brand name, such as Performa, Protech, PolyLoc or Mirage. These popular wheels are available in a variety of color combinations and can look very attractive while providing easy roll-ability, floor protection, non-marking and non-conductive performance. A widely used wheel due to its balance of economy and performance.
95A
Plain bore, Ball Bearings, Roller Bearings
$
-40° to 180°
PolyUrethane on Steel
A wide variety of liquid cast polyurethane wheels are available. These wheels offer a longer wearing, higher capacity material than rubber, yet will not damage or mark floors like cast iron or steel. Polyurethane wheels possess a durability unmatched by any rubber tread wheel and are built to withstand permanent flat spots in the tread. The polyurethane resists most chemicals and oils and rejects floor debris.
Also available are Extreme Duty Polyu-on-Steel which is the combination of a high-load urethane chemically fused to a steel core resulting in one of the most long lasting, rugged wheels available. It resists heat build-up and is excellent for applications where heavy loads and continuous usage cause regular poly wheels to degrade.
These provide floor protection, is non-marking and delivers a quieter ride than a hard tread or steel wheel.
95A - 60D
Plain; Delrin; Roller; Precision Ball; Tapered
$$
-40° to 180° with proper bearings and lubrication
Solid PolyUrethane
These robust and versatile wheels are molded from high performance liquid cast polyurethane. While easy to push with easy start-up, they are capable of withstanding shock loads and abusive conditions. Durable and resistant to abrasions, cracking and chipping, as well as floor protective and non marking.
55D - 65D
Precision Ball bearings (most common), Roller
$$
-40° to 180° intermittent
Rubber, Industrial
Industrial rubber wheels might be one-piece (smaller wheels) or molded only a nylon, steel or aluminum hub (larger wheels). They have a higher load capacity than the soft rubber and will not flatten while sitting under load. They provide an easier roll and easy start-up along with great durability. Also resistant to most chemicals, oils, grease, solvents and cleaning agents. Weight capacities for all rubber wheels is typically less than other wheel types. The industrial rubbers are usually not non-marking though they are non-damaging to floors.
Small: 75D Large: 68-80A
Precision Ball bearings (most common), Roller
$$
-40° to 180° intermittent
Rubber Tread Wheels
Rubber-on-Steel mold-on wheels consist of a soft black, 70 durometer (Shore A) rubber tread permanently bonded on gray iron centers. Mold-on rubber offers floor protection, a cushioned and quiet ride for the product being transported, and they absorb shock and vibration. Excellent for moist and wet environments, food service equipment, small waste bins, factory use, and platform trucks. Rubber on Aluminum wheels feature a cushion rubber tread chemically - and permanently - bonded to a smooth, polished aluminum wheel core. They provide light weight with good load capacity and shock absorption. Particularly with annular or precision bearings, they require minimal effort to starup-up and push a load. The cushioned rubber allows for easy roll-over of small obstacles such as electrical cords and door thresholds. They offer floor protection, are non marking and non-conductive, and resist liquids, oils, greases, cleaning agents and solvents. Balloon Rubber on Aluminum wheels offer extra thick, precision molded high grade grey rubber chemically bonded to an aluminum core to provide extreme resiliency and mobility. These attractive wheels deliver a quiet, cushion ride on rough or uneven surfaces. The 'donut' tread offers swiveling ease with rollability, along with floor protection, being is non-marking and non-conductive.
Steel core: 68-80AAlum: 65-75A
Precision bearings (most common), Roller
$$$
N/A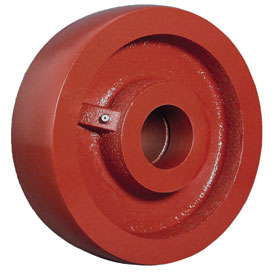 Steel: Forged or Ductile
Steel wheels are hot forged from high carbon steel billets heated to 2,400 degrees then repeatedly hit by high tonnage forging hammers. This process enhances the grain structure and increases the ductility and tensile strength (64000 psi) of the wheel. The wheels are then precision machined flat with rounded edged to finished tolerances. Forged steel wheels offer the greatest load capacity, impact strength and rollability of all caster wheels.
Off the chart!
Roller or tapered bearings
$$$
-40° to 800° with proper bearings and lubrication
Thermoplasticized Rubber (TPR)
Precision molded Thermo Plastic Rubber is mechanically locked to a durable polyolefin core to provide an economical wheel for many applications. They provide a smooth, cushioned ride and can overcome small debris and obstacles on the floor. They offer floor protection, are non-marking and non-conductive. These often have various brand names by various manufacturers and can be flat or crowned. A higher popular wheel due to its balance of economy and versatility.
55-65A
Plain bore, roller bearings, ball bearings
$$
-40° to 180° intermittent
V-Groove
V-Groove wheels are constructed from grey iron castings. The 90° grooves, available in two depths/ widths, are machined into the face of the wheels and direct the load to each face of the angle track. Can also be used on a flat surface. Ideal for heavy loads requiring complete control. Typically purchased for rigid (non-swiveling) casters.
130-150 Brinell
Roller Bearings
$$
-40° to 800° with proper bearings and lubrication